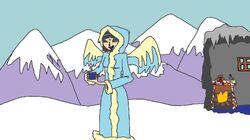 The Faeries
In Neopia, the normal spelling "fairy" is changed to "faerie" most likely because TNT wants to be unique. The word "faerie" is pronounced normally. There are six basic elements of faeries: Fire, Water, Dark, Light, Earth and Air, as well as the supreme ruler of Faeries and Neopia, Queen Fyora. There are other faeries, too. Here's a list.
Fountain
Healing
Neried
The Drenched
Nuria
Ember
Eithne
Psellia
Illusen
Iyana
Ilere
Darkest
Jhudora
Vanity
Malice
Spite
Siyana
Taelia
Baelia
Jhuidah
Negg
Tooth
Space
Soup
Library
Aethia
Queen Fyora
Illusen and Jhudora have a long and unhappy history. If you ever go to Meridell and do Illusen's quests, DON'T go to Faerieland and do Jhudora's quests (and vice-versa). They both hate each other, and play tricks on one another on their special day. No one is positive why Illusen and Jhudora have such a deep rivalry, but never ask the two, because Illusen hates to remember the reason, and so does Jhudora, but at least she'll be glad to tell you about that "goody-two-shoes Illusen." Most likely the two don't like each other because one stole from or tricked the other. However, it is known that Jhudora once threatened to do something to Illusen's hair, and Illusen messes around with Jhudora's cauldron quite a lot.
Quests
Every basic faerie, Queen Fyora, the Fountain Faerie, the Library Faerie, Jhuidah, Illusen and Jhudora give out quests at one point or another. Illusen and Jhudora you have to go to in order to get their quests. The Library Faerie's quest is a daily crossword puzzle and Jhuidah's quest is the cooking pot recipe. You also must go to these Faeries to get their quests. The Fountain Faerie's quest and Fyora's quests are VERY rare. Fyora's rewards are unbelievable, while the Fountain Faerie's reward is a paintbrush color of your choice.
Here is a list of the basic Faeries' requests and rewards:
Request: Books
Reward: Defence
Request: Clothing
Reward: Strength
Request: Beauty Products
Reward: Swiftness
Request: Magic
Reward: A grand feast
Request: Toys
Reward: Health
Request: Trading Cards
Reward: Level Raising
Still confused? Go tohttp://www.neopets.com/quest_help.phtml for more Quest Help.